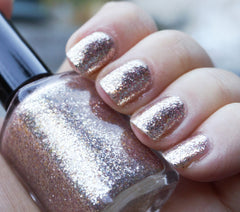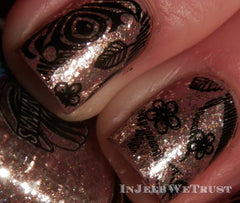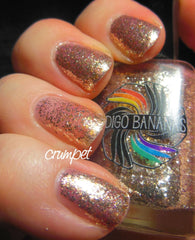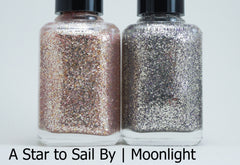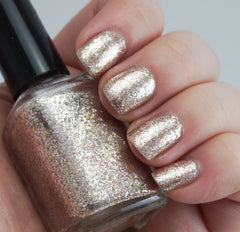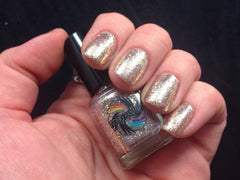 Regular price
$ 12.00 USD
Regular price
$ 10.00 USD
Sale price
$ 12.00 USD
Unit price
per
Sale
Sold out
"All I ask is [for] a tall ship and star to sail her by" - Willy Wonka, inspired by 'Sea Fever' by John Masefield:

"I must go down to the seas again, to the lonely sea and the sky,
And all I ask is a tall ship and a star to steer her by;
And the wheel's kick and the wind's song and the white sail's shaking,
And a grey mist on the sea's face, and a grey dawn breaking."

**NOTE: This color has been reformulated in batches after 7/2016: the color and mix is the same, but there is the addition of smaller sized silver flakies (same total amount of silver flakies), for higher coverage on the nail (two coats).  New bottles have 2.0 on the bottle label.

**NOTE 2**: Silver flakie based polishes tarnish a bit over time (first month) and turn slightly more golden.
A Star to Sail By is a smooth, flat silver flake (not glitter) based polish that looks like white gold that leans slightly rosy (paler than true rose gold, but pinker than white gold). This polish is a complex mix of multiple gold flakes, pink flakes, pink to gold flakes, microshimmers and holo microshimmer, with the bulk of it being a real silver metal flake which is extra shiny - the closest thing I've found to a mirror finish on my nails.
This polish is a close cousin to 'Moonlight' and is the golden version of that polish. The coverage for this polish is slightly stronger than Moonlight due to the mix of flakes involved - while Moonlight takes three thin coats, two coats are fairly opaque on this one, but depending on the thickness of the initial coat three coats are also recommended.
'Moonlight' is a true silver, and darker than this polish, with hints of purple, grey and holo shimmers, 'A Star to Sail By' is very pale, rose leaning, gold with flatter metal coverage and more subtle texture to it (so looks smoother on the nail).
Perfect for New Years or any time you want nails that are really unique!
Easy to remove! Not a glitter.
Base color: rose gold: silver + gold + pink + microshimmers in clear
Finish: jam packed flecks/flakies
Roughness: very smooth, metallic
# coats: 2-3 coats
Top Coat: not required except for increased wear
Staining: base coat recommended, pigments are possibly staining
Size: 15ml
Vegan & cruelty free: yes
3-Free (formaldehyde, toluene, DBP free): yes
Indigo Bananas brand polishes are handmade from suspension base, thinner & related solvents, pure pigments, effect micas & flakes, and glitter. Polishes are made in batches, with weighed colorants and measured liquids, and batches are compared to previous testers. All finished polish colors have been tested for at least a month, with most having been under development for 3months+. Since this is a handmade product, there's a possibility that there will be slight batch variations, but I do my best to minimize them, both in appearance and performance.
Please shake before use, as the base used tends to 'gel' up, but should thin to a good consistency with a small amount of agitation. Please allow dry time between each coat of polish. Usage of a base coat & top coat is HIGHLY recommended to increase wear of all nail polish. I recommend using 3-Free top coats & base coat - and especially avoiding DBP (dibutyl phthalate, which disrupts hormone function), in all nail polish products.
The easiest way to remove glitter nail polish is to: soak a cotton pad in polish remover (or acetone), place it on your nail, wrap a piece of aluminum foil around your finger, wait 10 minutes, press and slide off the pad in one swipe (look up "glitter foil removal method" on youtube for some great videos). Please wipe cap off after use to prevent build up of polish. Polish can be thinned with nail polish thinner (ethyl/butyl acetate based, not acetone) if it is too thick or thickens up over time, with use.
Do not use near an open flame, while smoking, or while breathing fire or doing similar stunts sometimes seen done by street performers. Not to be used to put out cigarettes. Store in a cool, dark location. Use in a well ventilated area when applying nail polish, and do not use as an inhalant. For external use only.
Ingredients:
Butyl Acetate, Ethyl Acetate, Nitrocellulose, Isopropyl Alcohol, Adipic Acid/Neopentyl, Glycol/Trimellitic Anhydride, Acetyl Tributyl Citrate, Silica, N-Butyl Alcohol, Styrene/Acrylates Copolymer, Benzophenone-1, Violet 2. may contain: ultramarines, iron oxides, chromium oxides, lake dyes (batch certified), mica, glitter.


Share
View full details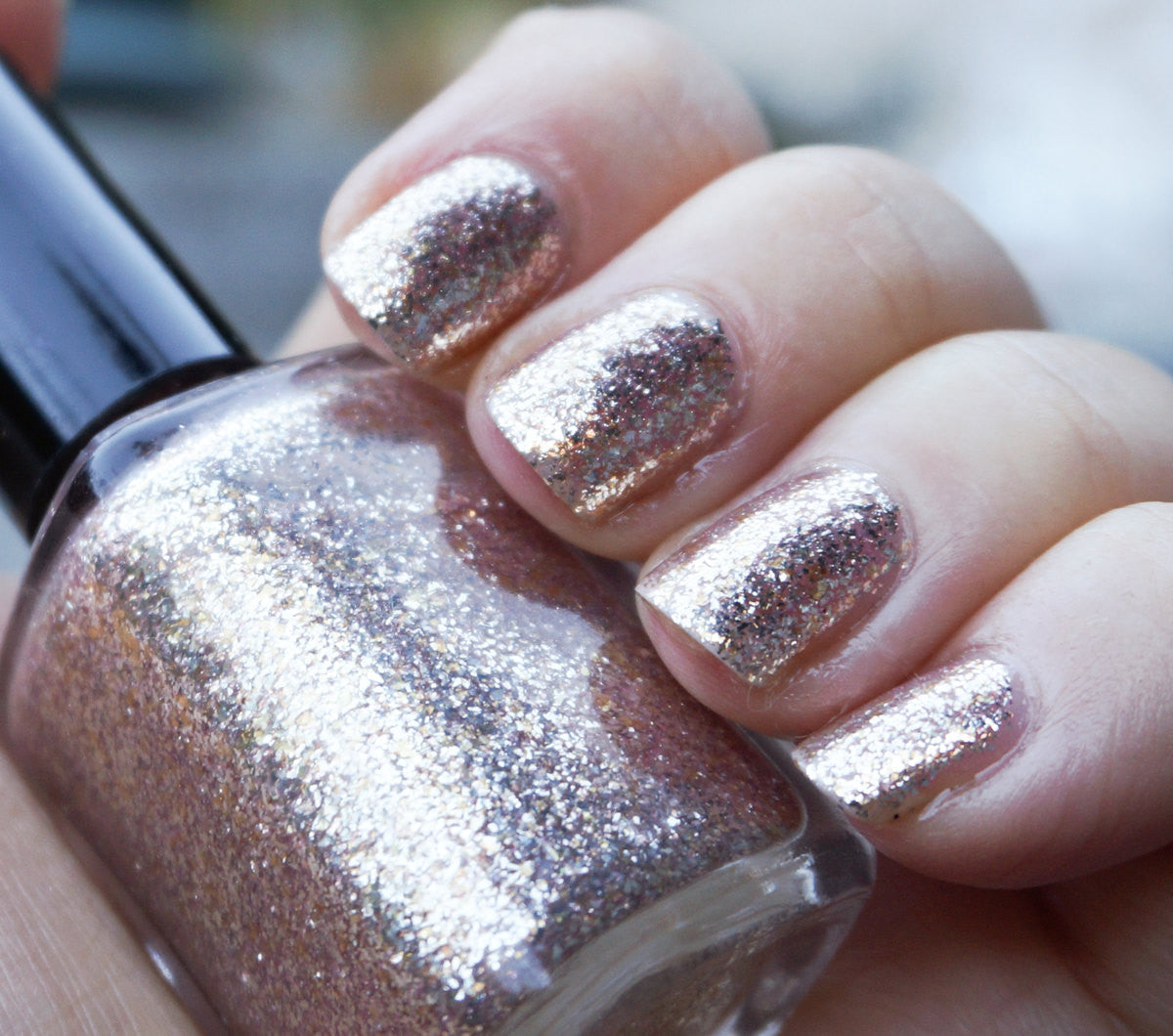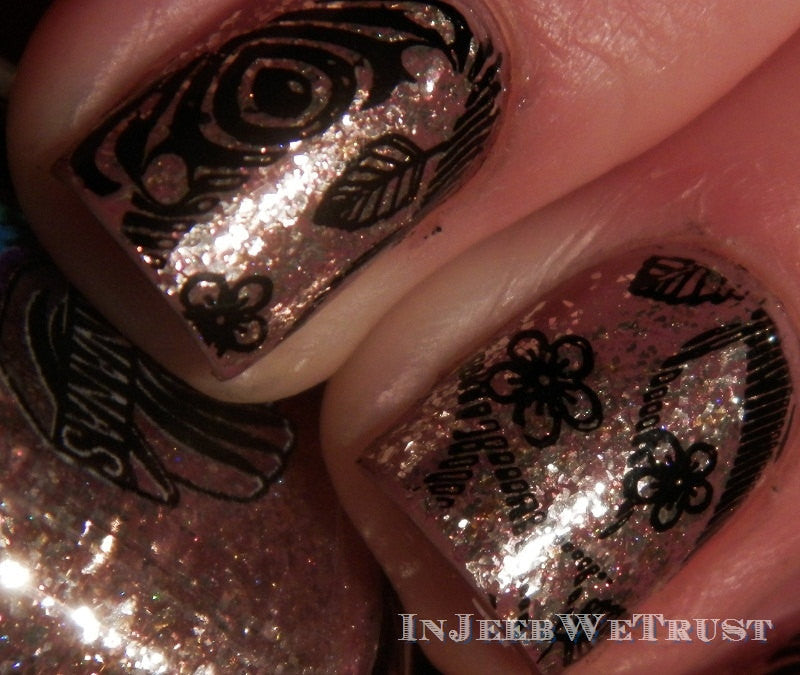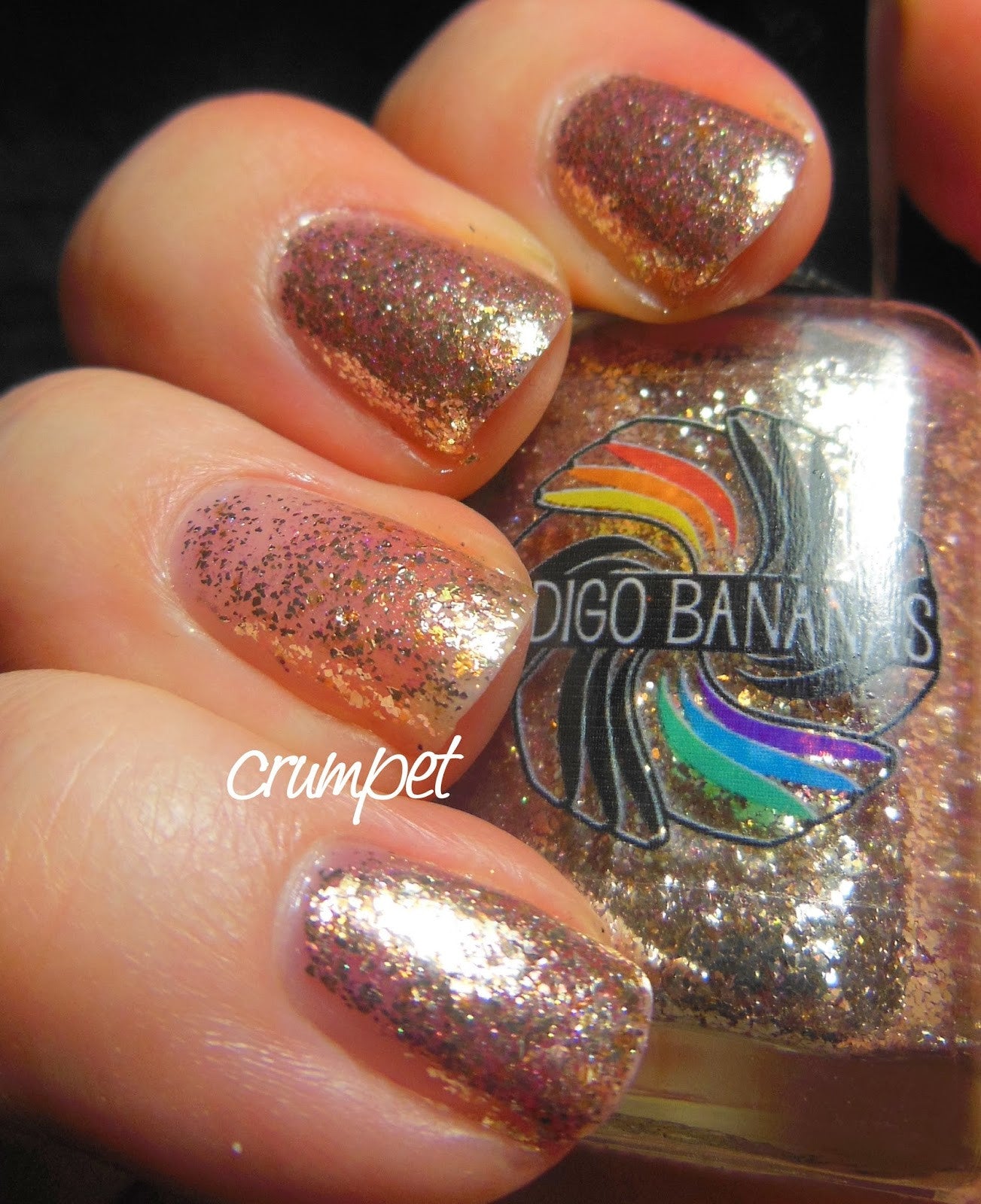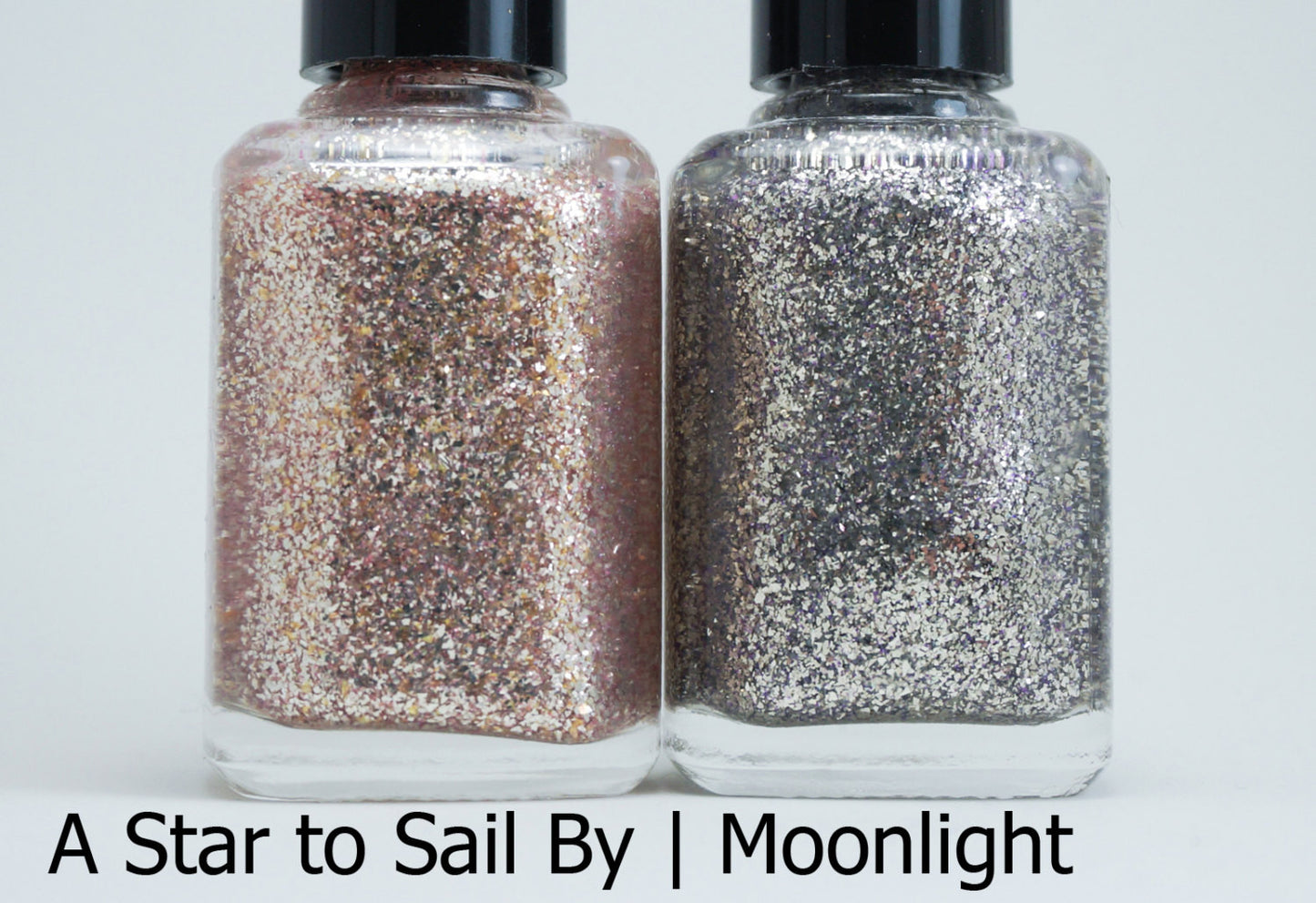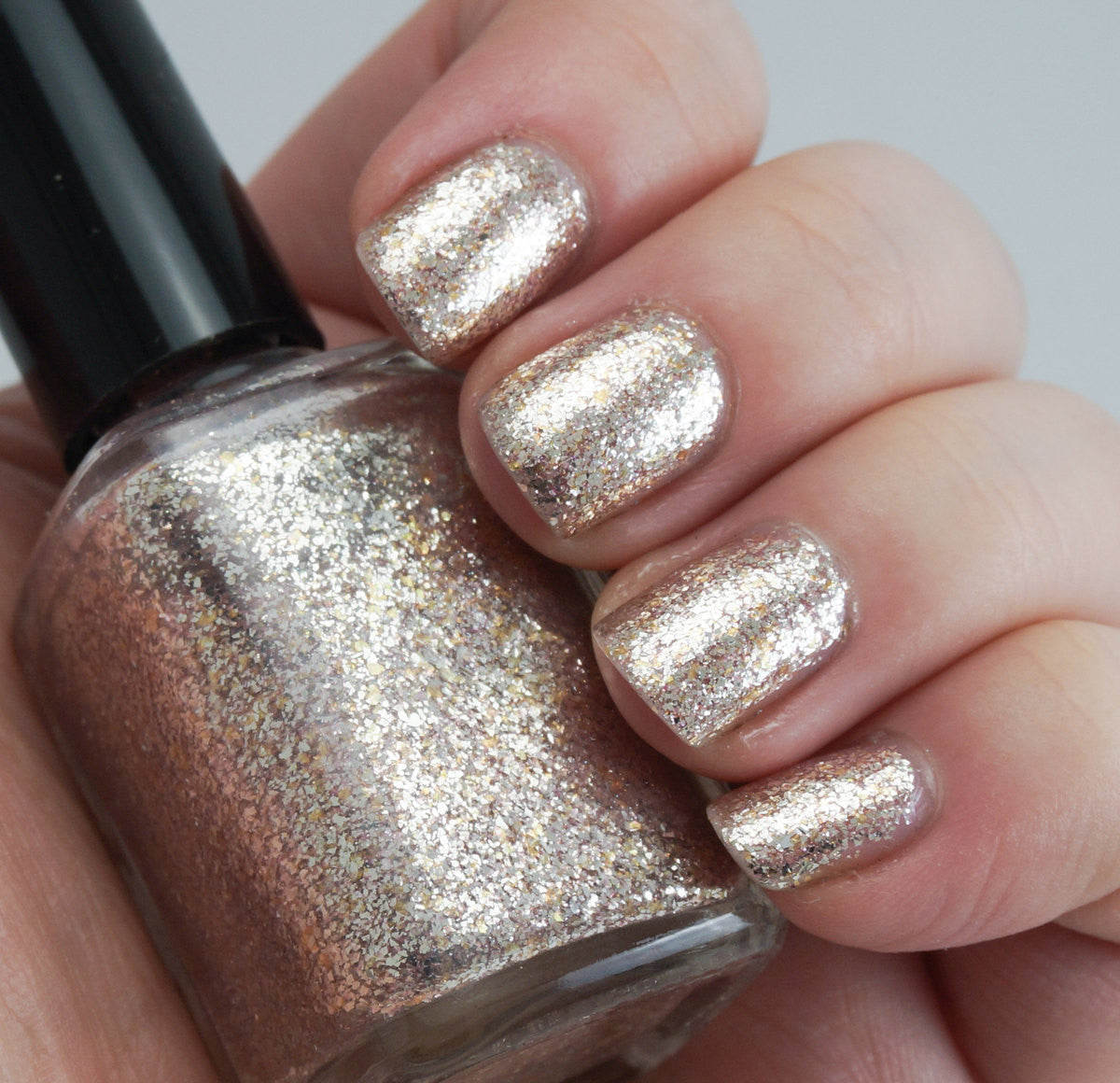 Shipping
Items are shipped via USPS (First Class or Priority). A tracking number is provided for all orders automatically, sent to the e-mail on file with the order, once an order is processed. There may be a delay between order processing and package pickup/drop off as well as a lag in tracking information showing up. Generally first class and international tracking may not update at every point but Priority Mail does. Non USPS shipping methods do update properly. If you do not receive a tracking number after an order has shipped, or if tracking seems to be to the wrong part of the country please contact us asap.
For USPS First Class mail shipping:
Please allow up to 7 days for processing an order and dropping it off, occasionally a bit longer after sales or launches. Orders generally go out faster but exceptions do happen, as IB is a one person operation at the moment. Delivery time for first class packages within the US is 4-7 days, but delays are not unusual with first class packages. Tracking info for first class USPS packages is often NOT accurate nor is it updated at every step of the way, and unfortunately USPS does not guarantee full tracking on first class packages. Delivery updates on first class packages are guaranteed - just not scanning at every step along the way. If you require accurate tracking, please consider choosing Priority mail upgrades. Packages weighing over 16oz go priority as a matter of course. Packages qualifying for free shipping may go in separate first class packages.
For USPS Priority mail shipping:
Please let us know if the order has a deadline or is urgent in any way. Otherwise orders go out in around in the same processing speed as other orders. However priority mail packages usually get processed quickly at our local post office (same day), and they fully update tracking info at each step of the way. Delivery time for priority mail within the US is 2-3 days.
For international orders:
These generally go First Class and processing time follows the domestic First Class guidelines above. Delivery time for first class international is very irregular - anywhere from five days to twenty days is normal. Tracking info for first class international is VERY inconsistent and often not scanned immediately but only scanned at customs or entering the delivery country and upon delivery. Priority mail is more consistent with both delivery times and tracking.
If you need a package sent out asap please contact us ahead of time or shortly after placing an order! If the order is a gift, let us know (in order comments). USPS First class shipping transit time takes between 3-5 days within the US at the quickest and 6-14 days internationally once it enters the system - with possible customs delays. All packages have delivery confirmation but packages are not always immediately or consistently scanned on every part of their route. Please allow at least 10 days for US shipments and 25 days for international shipments before contacting us about missing packages.
Any changes or delays in shipping will be announced on the front page, on the Indigo Bananas Facebook page, and at the top of the Indigo Bananas Etsy shop.
We do not have standard gift wrapping options available at this time, but plan to have it as an addon in the store in the future.If you wish to have something gift wrapped, or if an order is a gift and you would like a receipt omitted please contact us as indigobananas@gmail.com.
Returns
We're sorry, but at this time we cannot offer refunds, only replacement - in the case of incorrect item shipped, damaged items, or lost packages. If an order has not shipped and you need something changed please contact us asap.
As with anything, exceptions can be made, so for any other issues, please contact us at indigobananas@gmail.com and we will do our best to help you!
Other
If you have any questions, the best way to contact us is to drop us a line at indigobananas@gmail.com