Regular price
Sale price
$ 0.45 USD
Unit price
per
Sale
Sold out
Please choose your items from the drop down menu.
For a complete bottle please choose three items: BOTTLE + CAP + BRUSH.
Extra bottles
NOT for replacing broken IB bottles (If you received a defective, cracked, broken bottle, please contact us at indigobananas@gmail.com!). Volume held is 15ml for FULL size bottles, 8ml for MINI bottles, filled to the bottom of the neck of each bottle.
Extra bbs (ball bearings, mixing balls)
- Have other polish bottles that need BBs? Add these to your order.   These mixing balls are made of #430 grade steel and are chemically resistant.  Generally 1-2 are used per bottle, up to four or so if you need to mix something heavy or would like something to remix very fast (shimmer put into fast dry top coats that don't have any suspension power for example).
Extra labels
- please contact us directly if you have need of extra IB labels or need a replacement.
------ Brushes ------
Flat brushes
are a bit wider and flatter than standard (or 'skinny') brushes, but not the very 'wide'/'chunky' type brushes that have maximum bristles.  Straight ends, and a bit more spring than standard/skinny brushes. The length for flat brushes for our 15ml bottles is quite a bit shorter than the length of the normal brushes or this would be the default Indigo Bananas brush offering.
Paddle or fan brushes
are wide and chunky style brushes, with a curved end and more bristles than other brushes.  These hold a lot more polish and cover more nail, but may also cover with too much polish or flood edges. Try it and see if you like them! The length for paddle/fan brushes for our 15ml bottles is a little bit shorter than the length of standard brushes.
How to replace brushes
: Remove the cap & brush from your IB bottle, wipe off polish, hold the cap in one hand and give the brush a hard yank (with paper towels or pliers).  The brush should pop out of the cap.  To change brushes, insert the new brush into the bottle and screw the cap onto the nail polish bottle. Alternatively you may purchase new caps, drop the brush into the bottle and screw on the cap.
Please note:
brushes are coated with clear nail polish so they are rigid. If you are using the brushes in non-solvent based liquids, or oils or water based liquids (diy cuticle oil, etc), please soak off the clear polish coating with acetone/remover first.
NOTE ABOUT BRUSH SIZING:
Our brushes are nonstandard and may not fit many other caps or bottles.  They are for
13mm
wide neck bottles (15mm is the other standard bottle neck size). 
The bottles that these brushes will fit are 36-39mm high (for the 8ml mini brushes), or 46-50mm high (for the 15ml full brushes).  They will fit longer bottles, but not shorter ones than the max.  These numbers are measured
from the inside
(glass bottom) to the top of the neck.  These are the measurements to check for if you're buying parts for other brands.
How to measure if our caps or brushes will fit other brands' bottles
: 
WIDTH of neck: take a tape measure to the top of the neck of the bottle, and measure outside
THREAD TO THREAD
.
This number should be 13mm
.
LENGTH of brush:  Insert a wooden stick (like an orange stick), mark off distance at the top of the neck with a marker. 
This number should be 50mm or smaller.
In addition, the cap and brush need to fit together. Our brushes may fit a FEW other brands, but when in doubt, you likely need to purchase our caps as well (or hot glue/krazy glue the brush top into your cap) for the brush and cap to screw together properly.
Share
View full details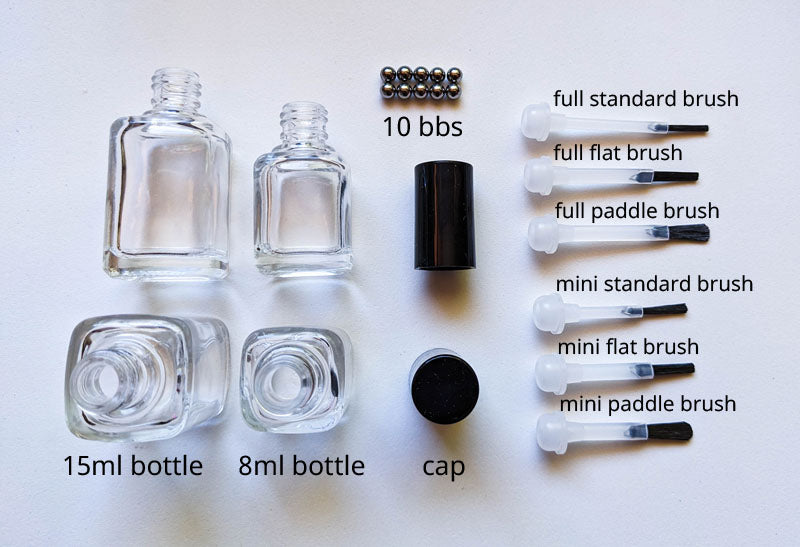 Shipping
Items are shipped via USPS (First Class or Priority). A tracking number is provided for all orders automatically, sent to the e-mail on file with the order, once an order is processed. There may be a delay between order processing and package pickup/drop off as well as a lag in tracking information showing up. Generally first class and international tracking may not update at every point but Priority Mail does. Non USPS shipping methods do update properly. If you do not receive a tracking number after an order has shipped, or if tracking seems to be to the wrong part of the country please contact us asap.
For USPS First Class mail shipping:
Please allow up to 7 days for processing an order and dropping it off, occasionally a bit longer after sales or launches. Orders generally go out faster but exceptions do happen, as IB is a one person operation at the moment. Delivery time for first class packages within the US is 4-7 days, but delays are not unusual with first class packages. Tracking info for first class USPS packages is often NOT accurate nor is it updated at every step of the way, and unfortunately USPS does not guarantee full tracking on first class packages. Delivery updates on first class packages are guaranteed - just not scanning at every step along the way. If you require accurate tracking, please consider choosing Priority mail upgrades. Packages weighing over 16oz go priority as a matter of course. Packages qualifying for free shipping may go in separate first class packages.
For USPS Priority mail shipping:
Please let us know if the order has a deadline or is urgent in any way. Otherwise orders go out in around in the same processing speed as other orders. However priority mail packages usually get processed quickly at our local post office (same day), and they fully update tracking info at each step of the way. Delivery time for priority mail within the US is 2-3 days.
For international orders:
These generally go First Class and processing time follows the domestic First Class guidelines above. Delivery time for first class international is very irregular - anywhere from five days to twenty days is normal. Tracking info for first class international is VERY inconsistent and often not scanned immediately but only scanned at customs or entering the delivery country and upon delivery. Priority mail is more consistent with both delivery times and tracking.
If you need a package sent out asap please contact us ahead of time or shortly after placing an order! If the order is a gift, let us know (in order comments). USPS First class shipping transit time takes between 3-5 days within the US at the quickest and 6-14 days internationally once it enters the system - with possible customs delays. All packages have delivery confirmation but packages are not always immediately or consistently scanned on every part of their route. Please allow at least 10 days for US shipments and 25 days for international shipments before contacting us about missing packages.
Any changes or delays in shipping will be announced on the front page, on the Indigo Bananas Facebook page, and at the top of the Indigo Bananas Etsy shop.
We do not have standard gift wrapping options available at this time, but plan to have it as an addon in the store in the future.If you wish to have something gift wrapped, or if an order is a gift and you would like a receipt omitted please contact us as indigobananas@gmail.com.
Returns
We're sorry, but at this time we cannot offer refunds, only replacement - in the case of incorrect item shipped, damaged items, or lost packages. If an order has not shipped and you need something changed please contact us asap.
As with anything, exceptions can be made, so for any other issues, please contact us at indigobananas@gmail.com and we will do our best to help you!
Other
If you have any questions, the best way to contact us is to drop us a line at indigobananas@gmail.com